Elisa Bonaparte Baciocchi con la figlia Napoleona Elisa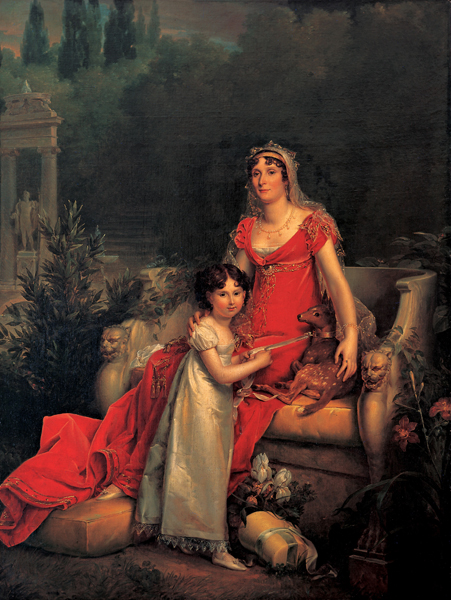 La composizione presenta Elisa Bonaparte seduta su un sedile in pietra impreziosito da braccioli scolpiti con protomi leonine, al centro di un giardino, dove sono visibili sulla sinistra resti di frammenti architettonici e una statua di Nettuno. L'ambientazione della tela rimanda idealmente al fiorentino Giardino di Boboli, il parco di Palazzo Pitti, scelto da Elisa come residenza granducale. In terra si scorgono fiori e un cappello con larga visiera ornato da un nastro. La principessa tiene davanti a sé la figlia Napoleona Elisa (ritratta all'età di circa sei anni), sulla cui spalla pone affettuosamente la mano destra. Napoleona tiene per il guinzaglio un piccolo cerbiatto, seduto accanto alla madre. Molto ricercato è l'abito di Elisa in velluto rosso con ricami in oro, impreziosito da una spilla posta al centro della vita alta; una collana orna il collo, un bracciale il braccio destro, un anello la mano; il volto è incorniciato da una acconciatura classica in parte coperta da una dentelle leggera (una blonda di pizzo).
The hall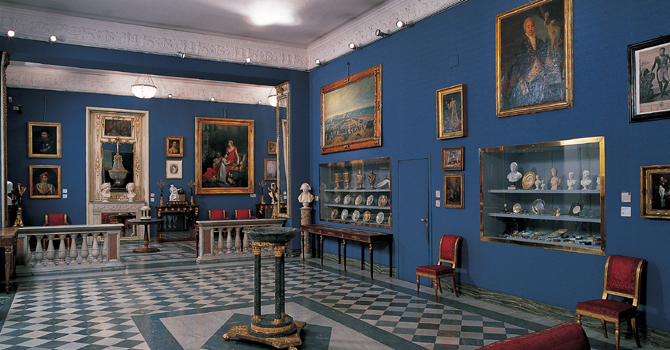 The first two rooms, divided only by a marble balustrade, form a unique area dedicated to the splendour of the First Empire (1804-1814). Here are collected the large canvases which depict numerous members of the imperial families in noble and conventional poses. Next to these official portraits, commissioned by Napoleon after his consecration as emperor, are displayed the private portraits, which, through the waxesof Giambattista Santarelli, enamel miniatures, cameos by Nicolò Morelli, and snuff boxes, give a more intimate portrait of the Bonaparte family's history.
You may also be interested in