Room XII - Giuseppe Primoli and Matilde Bonaparte
This room is dedicated to the "landlord", Giuseppe Primoli, to whom the Napoleonic Museum in Rome owes its existence. In the drawing by Jean-Alexandre Coraboeuf he is shown in the role of a cultured man, an elegant collector and a passionate bibliophile. Giuseppe promoted close cultural exchange between France and Italy, making use of the web of relationships he had woven in his youth in the Paris of the Second Empire.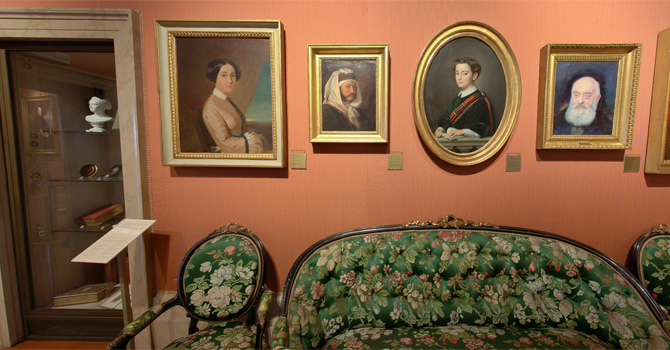 He in part owed this lively intellectual attitude to Matilde Bonaparte Demidoff who was known at that period in Paris as "Notre Dame des Arts", since she had opened her salotto-atelier in the Rue des Courcelles to the best writers and artists of the time: her habitual guests included, amongst others, Flaubert, Dumas, the Goncourt brothers, Maupassant, and Ernest Hébert. One of the walls is therefore devoted to Giuseppe's friends: among the various portraits can be found three sketches of Hébert, for a long time director of the Villa Medici, and several watercolours of Matilde herself.
The armchairs and the divan come from the furniture of Augusta Bonaparte's green boudoir in Palazzo Gabrielli (today Palazzo Taverna).