Carlotta Bonaparte Princess Gabrielli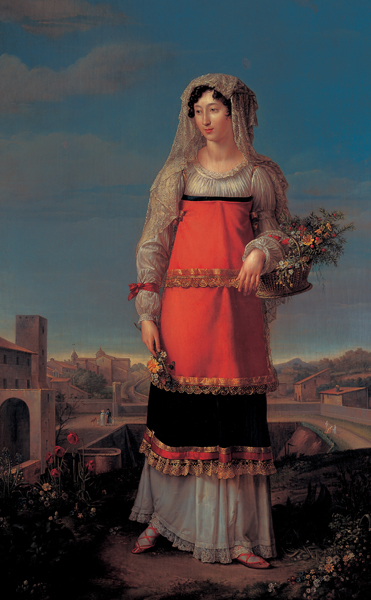 Author:
Jean Baptiste Wicar (1762 - 1834)
La principessa è ritratta in piedi, con le vesti da contadina tipiche del paese laziale di Canino, con un cesto di fiori di campo e un bouquet. La figura si staglia sullo sfondo della tenuta del castello di Canino, animato da due gruppi di personaggi: a destra Luciano Bonaparte e la moglie Alexandrine Bonaparte con i tre figli Carlo Luciano(1803), Letizia (1804) e Giovanna (1808); a sinistra Cristina e Letizia Bonaparte con Anna Maria Jouberthon.
The hall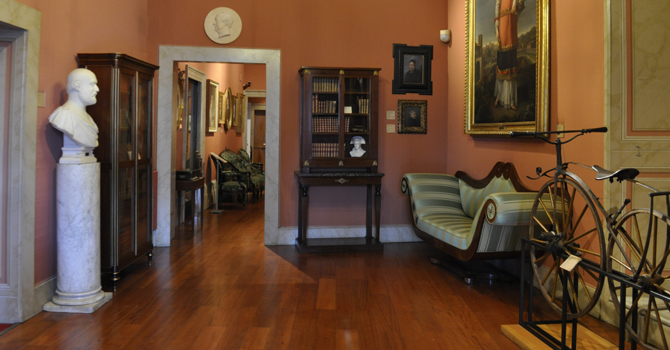 This room is dominated by the huge portrait of Carlotta Bonaparte, the elder daughter of Luciano, created by Jean-Baptiste Wicar. "Lolotte" is dressed as a farm worker and shown against a background of Canino's estates. The painting comes from the collection of one of the daughters of Placido Gabrielli, who in turn had married in 1856 at the Tuileries, a Bonaparte, Augusta, the daughter of Carlo Luciano and Zenaide.
You may also be interested in