The Palazzo Primoli
The Napoleonic Museum occupies the ground floor of the Palazzo Primoli, which was built in the Seventeenth century; it originally belonged to the Gottifredi family- who according to the plan by Nolli plan still owned it in 1748 – then, at the end of the Eighteenth century, it passed to the Filonardi. Between 1820 and 1828 it was acquired by Count Luigi Primoli.
 Following the radical modifications to the area, made necessary by the construction of the Tiber embankment and the opening of the Via Zanardelli, Count Giuseppe Primoli, who in 1901 was the only owner of the building, entrusted its reconstruction to the architect Raffaele Ojetti.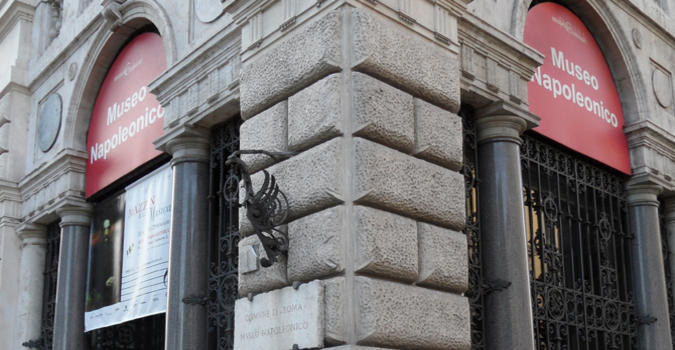 The old facade on the Piazza dell'Orso was demolished and a new area with corner loggias was added to the building, while a new monumental entrance was created on the Via Zanardelli; the height of building was raised and it was given a new facade on Piazza di Ponte Umberto. The works finished in 1911.
 The ground floor, which, along with the Napoleonic collection, was donated by Giuseppe Primoli to the Municipality of Rome in 1927, retains the Eighteenth ceilings with their painted beams in many rooms, while the friezes with run along the walls of rooms VIII, IX, X, date from the first decades of the 1800s, when the palazzo was already owned by Primoli. The friezes in rooms III and V date from after the marriage of Pietro Primoli to Carlotta Bonaparte in 1848, as is demonstrated by the "lion rampant" of the Primoli family and the "eagle" of the Bonapartes.
 The early Nineteenth century Neapolitan majolica – laid on the floors of rooms III, IV, V, IX, and X – comes from the demolished Palazzo Porcari-Senni in the Via Aracoeli; the entrance to room III, which dates to the end of the 1700s, was recovered from the demolition of the Chapel of the Hospital of Pius VI in the S. Spirito Borgo.
The Palazzo is also the home of the Primoli Foundation, created by Primoli himself, and the Primoli Library, which is made up of more than thirty thousand volumes of literature, history and art.
 From the 1st June 1995 the Mario Praz Museum, which is connected to the National Gallery of Modern Art, has been situated on the third floor. It is a museum-house, in which is a myriad collection of furniture, paintings, drawings, terracottas, bronzes, miniatures, and silver work, dating from the end of the Eighteenth Century and the first half of the Nineteenth, which were collected by Mario Praz (1896-1982), an anglophile and art critic.
 The prescence of both these institutions in the same building makes it a place of great interest for the study of art, literature and XIXth century history.