The empress Josephine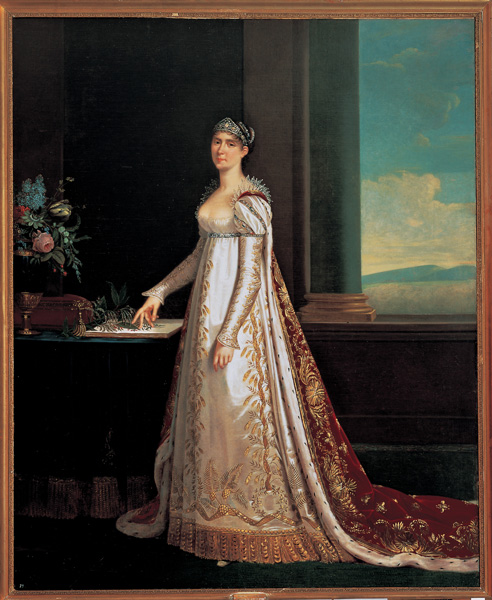 Author:
Robert Lefèvre (Bayeux 1756 - Parigi 1830)
This life size portrait of the empress Joséphine was created by Lefèvre probably immediately after the proclamation of the empire; as well, indeed, as the partial copy of this portrait, made in 1806, and conserved in the Victoria & Albert Museum in London. Napoleon's beautiful first wife is in "formal dress" and poses next to a vase of flowers, an allusion to her passion for botany (and particularly for roses). The book on which the empress rests her hand may be an issue of the catalogues published to make known the rare plants cultivated at Malmaison, Joséphine's favourite residence, and illustrated by Pierre-Joseph Redouté, that of 1805 'peintre de fleurs de l'impératrice'. Joséphine retired permanently to Malmaison after her divorce from Napoleon (15th December 1809); she remained there until her death, which occurred while Napoleon was still in exile on the island of Elba; during the Hundred Days, on the 12th April 1815 to be exact, the emperor came to Malmaison to pay homage to the tomb of the woman he had loved more than any other. He did not set foot in the church where she was buried, but he shut himself up alone in her room, murmuring: «…comme tous ces lieux me la rappellent! Je ne puis me persuader qu'elle ne soit plus ici…».
The hall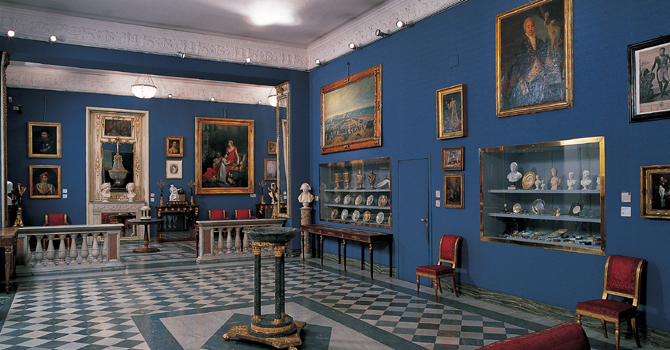 The first two rooms, divided only by a marble balustrade, form a unique area dedicated to the splendour of the First Empire (1804-1814). Here are collected the large canvases which depict numerous members of the imperial families in noble and conventional poses. Next to these official portraits, commissioned by Napoleon after his consecration as emperor, are displayed the private portraits, which, through the waxesof Giambattista Santarelli, enamel miniatures, cameos by Nicolò Morelli, and snuff boxes, give a more intimate portrait of the Bonaparte family's history.
You may also be interested in