Giuseppe Bonaparte
He reached Rome on the 31st August 1797 along with his wife, Julia Clary, and, after a brief stay at the inn of Monsieur Pio on the slope of San Sebastianello, chose as his residence Palazzo Corsini alla Lungara, with its elegant Eighteenth century facade by Ferdinando Fuga, he moved there on the 20th September, occupying the first and second floors. The palazzo swiftly became a focal point for revolutionary propaganda, where Jacobin Romans were able to meet safely, although Joseph tried to avoid compromising himself by open involvement in plans to ruin the Papal government.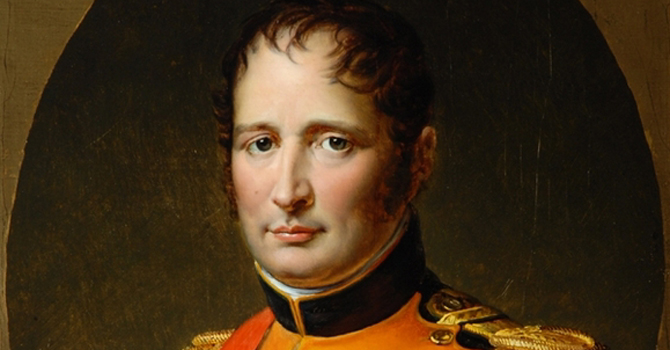 In the brief period of Joseph's ambassadorship, the Palazzo Corsini was a theatre for several important episodes, such as, for example, the homage paid to his wife Julia by the ladies of the Roman nobility, led by Costanza Braschi Falconieri, wife of Luigi Braschi the nephew of Pius VI, on the occasion of the presentation of credentials to the Pope on the 28th September 1797, or, an event with more serious consequences, the Roman Jacobin riots on the 28th December.
In this dramatic incident General Duphot was killed, the day before he was due to celebrate his marriage to Desirée Clary, Joseph's sister-in-law, in the Palazzo Corsini itself. The papal troops, in order to disperse the rioters, led by the sculptor Giuseppe Ceracchi, a prominent Jacobin, violated the extra-territorality of the Via della Lungara: Joseph Bonaparte and Duphot intervened, forcing the papal troops to fall back beyond the Porta Settimiana, but a point-blank shot from a musket hit Duphot, killing him.
The same evening, Joseph wrote a letter of protest to Cardinal Doria, the Secretary of State, asking him to visit Palazzo Corsini immediately, but the Cardinal refused; Joseph, deeming that this was an insult to the dignity of France, determined to leave Rome immediately, leading to the Directoire's decision to occupy the city. French troops arrived on the 10th February 1798 and on the 15th the Republic of Rome was proclaimed. With the election of Pius VII in 1800 and Napoleon's seizure of power with a coup d'etat on the 18th Brumaio, members of the Bonaparte family founded themselves once again, for various reasons, taking the road to Rome, where they were welcomed enthusiastically by the Papal court and the Roman nobility.