Napoleone entering New York. Chaim Koppelman and the Emperor
Immagine: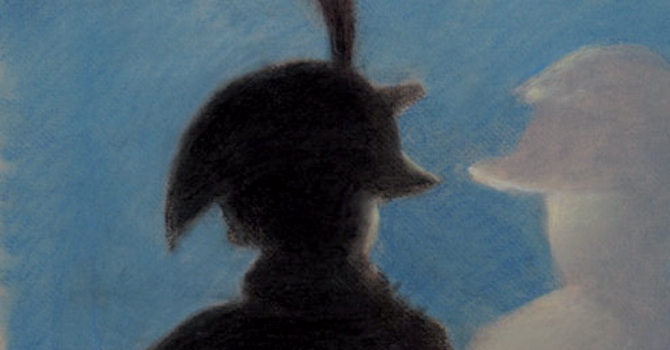 14/10/2011 - 06/05/2012
Museo Napoleonico
Through his works, the American artist Chaim Koppelman, ideally opens the doors of New York to Napoleon, a recurring figure in the artist's long career.
At the Museo Napoleonico in Rome in October of this year, an historic exhibition will open showing the prints, pastels, paintings and drawings which Chaim Koppelman did over six decades on the meaning of Napoleon to him. In the 1950s, as part of his study of Aesthetic Realism, Chaim attended a lecture by Eli Siegel on the character of Napoleon. Referring to a work by Eli Faure, Mr. Siegel explained something never seen before: "Napoleon," he said, "felt the injustices of the past should be changed." Yes, "he had a tremendous desire for power, but also, he wanted to be welcomed by the masses." Chaim Koppelman was so deeply affected by this idea that he put Napoleon into the 20th century, a man of opposites, in New York, in Coney Island, cavorting on the beach. With his fertile imagination, Chaim did work which showed Napoleon in an entirely new way, in entirely new circumstances--a figure with an ego, in his familiar hat, and also a man of the people. Napoleon retreated from Moscow as Meissonier showed, but he then went to Brooklyn, Chaim Koppelman's hometown.
Information
Opening hours
Tuesday-Sunday: 9.00 am - 7.00 pm;
Closed: Monday, May 1;
Last admission 1 hour before closing time.
Monday, April 30 the museum is open on an exceptional basis, with regular opening hours and admission fees.
Entrance ticket
Adults: € 7,00;
Concessions: € 6,00.
BOOKING:
-Groups (max 25 visitors): guided tours are available either for the museum and/or exhibition. A booking service is available for groups (max 25 visitors) for an additional booking fee of € 25,00;
- Schools (max 25 pupils/students): guided tours are available; booking is required for the admission.
Booking for individual visitors is available only when purchasing online tickets. If you book in advance you can skip the line by going directly to the ticket window.
Phone booking: tel. +39 060608 (daily from 9.00 am – 9.00 pm).
Online tickets:
www.omniticket.it.
Additional booking fee: € 1,00.
Information
Info: tel. +39 060608 (daily from 9.00 am to 9.00 pm)
Type
Exhibition|Modern Art
Organization
Fondazione Chaim e Dorothy Koppelman in New York, Assessorato alle Politiche Culturali e Centro Storico Sovraintendenza ai Beni Culturali di Roma Capitale
Sponsored by
BNL; Unicredit Banca; Monte Paschi di Siena; Finmeccanica; Lottomatica; Vodafone
Organizzazione e servizi museali Zètema Progetto Cultura Srl
With technical contributions from
Eventi correlati
Currently there are no ongoing activities.
There are no planned activities.